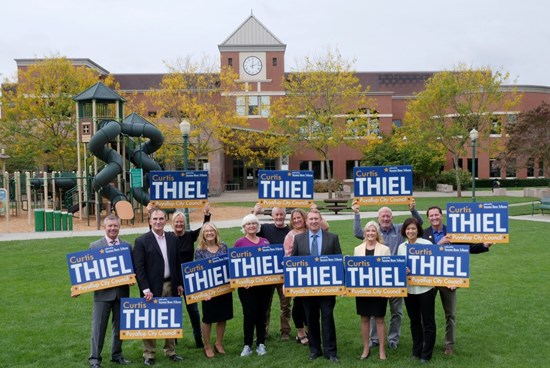 Endorsed by 100 democrats, republicans and independents in the community.
(Pictured from left to right - Chris Gildon | WA State House of Representatives 25th District, Jim Kastama | Puyallup City Council District 1 (Former State Senator 25th District), Kathy Turner | Former Mayor, Puyallup City Council, Cynthia Jacobsen | Puyallup City Council District 2, Patty Denny | Business Owner/ Former Chamber President, Chuck Valley | Non-Profit CEO, Karissa Thompson | Community Leader, Curtis Thiel, Val Offenbecher | Former Puyallup City Council Member, Bill Pugh | Mayor of Sumner, Kathy Yang | Puyallup School District Board Member, Jamie Gregory | Community Leader)
I was raised here, am a Puyallup school district graduate, parked cars at Kalles Jr. High during the Puyallup Fair (now the WA State Fair), and picked strawberries in the valley as a child. I have been a business owner for 22 years, located in downtown Puyallup for 20 of those years. My wife of 21 years, Dr. Maija Thiel, is the Career & Technical Education Director, for the Puyallup School District and a former Vice Principal at Puyallup High School. I have been involved in a wide variety of business and community organizations. My experiences have helped me understand, in a unique way, how city regulations and taxes affect growth, business climate, and quality of life for citizens of all ages.
Our public safety is vital to the City of Puyallup. We have an outstanding public safety program, and one of my priorities will be to support our first responders as they continue to keep us safe. I want what I had growing in Puyallup - safe streets, parks, and trails for all.
With a homeless population that has exploded, I will continue to work with city officials and community leaders to find solutions to these challenges. We have been slow to find effective ways to keep our community safe while showing compassion.
My years of community leadership mean I'm already connected, trusted, and ready to bring common sense solutions to Puyallup. Working with business owners, non-profits, and residential clients keeps my finger on the pulse of the community. I will make an effective council member by tackling challenges and opportunities in our city. I respectfully ask for your vote.